It is our pleasure to offer your company the opportunity to become an Official Sponsor of the annual Atlanta Georgia Relays. We are located in Atlanta, Georgia with the purpose of cultivating and developing young athletes.
As the season approaches we are busy at work preparing our athletes to have a successful campaign as they strive to reach and compete on the national level and be recognized for the wonderful work they do. Our athletes consist of new and seasoned runners, some of whom are nationally ranked and on pace to challenge national records. Outside of winning medals, the foundation of our program is centered around teaching athletes and families how to develop healthy and active lifestyles and the importance of education.
Benefits of becoming a sponsor
At Atlanta Georgia Relays (AGR), we understand the importance of marketing and the art of properly presenting your products and services. It is not our goal to simply gain you as a sponsor and add your logo to our website. We desire for you to see a return on your investment when you sponsor our team. Our marketing team believes in the power of a campaign. You can rest assured knowing that we will campaign your brand with the same proudness and integrity that we campaign our own brand. It is our goal to develop a long lasting relationship with your organization.
Sponsor Management Team
For more information call
404-804-1852/ 951-729-9073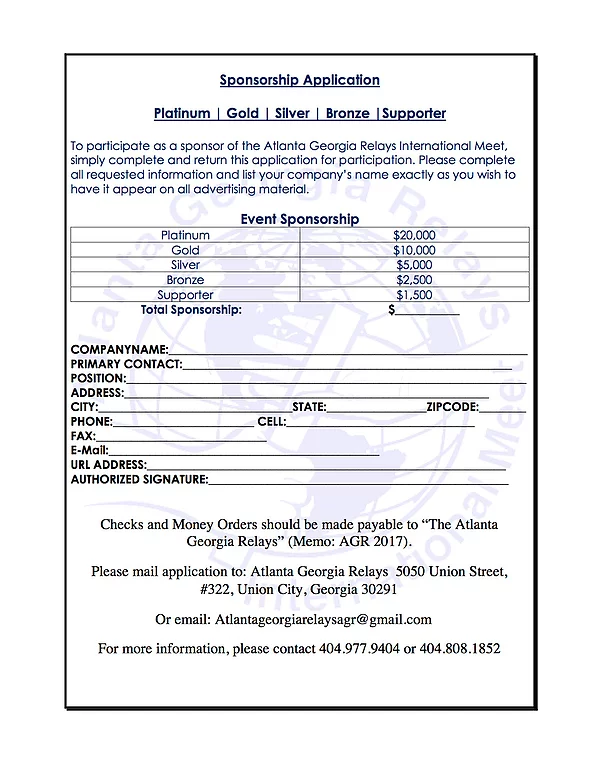 ​