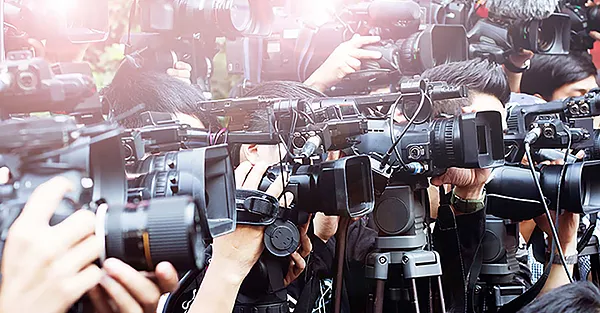 Media Policy
General Information
Appropriate Attire: Media is required to dress appropriately. Shirts and shoes must be worn at all times; sandals are prohibited. Inappropriately dressed media may be required to remedy the situation or face credential revocation.
Event Rules: Media members must observe all event guidelines and regulations. If unsure, please seek information from the Media Manager or on-site security personnel. Do not begin work as a media member unless you understand the event rules and regulations.
Race Results: Pre and post race press releases and race results are disseminated on a regular basis to media outlets and publications. Please contact the Atlanta Georgia Relays Event Manager if you wish to be added to the distribution list.
Proper Use: Credentials must be clearly displayed at all times during events and only by the individual to whom it was issued. Presentation of a credential signifies to security that the bearer has signed the required release forms and meets the qualifications for entrance into restricted areas. Unauthorized or improper use of a credential is prohibited. Credentials are non-transferable and will be revoked if used by any other person.
Replacement: If your credential is lost, stolen or damaged, Atlanta Georgia Relays, Atlanta Spartans Track Club, officials , agents acting upon the behalf of Atlanta Georgia Relays , partners and all affiliate companies will not be held responsible. Please ensure you are monitoring your equipment at all times
Photo / Video Restrictions Press Credential Access: Media Center,  and general spectator areas. No infield access.
Photo / Video Credential Access: Track infield, Media Center,  and general spectator areas.
Photographers will be required to wear an official Photo Vest and must keep a safe distance from the race course, or relocate as instructed by officials. Media approved for photography will receive a photo vest; Media approved for video will receive a video vest.
Photographs: Websites may upload still images from any Event; however, these images may not be used for any commercial or retail purposes without the express written consent of Atlanta Georgia Relays and the athlete(s) depicted. Images may only remain on the site for 7 days, unless otherwise approved by Atlanta Georgia Relays. 
Media Vests: Media with infield access must wear the vest and credential issued by Atlanta Georgia Relays at all times while accessing the infield.
Media Safety Meeting: Media granted track access must attend a mandatory Media Safety Meeting Saturday at 8:00 am in the Media Center, to receive instruction on track crossings, safety expectations, etc. Media vests will be distributed at the Safety Meeting.
Safe Distance: Media track access is limited to those areas where Media can safely capture images without endangering either themselves or event competitors. Accordingly, media are prohibited from standing in or on the edge of the race track or "otherwise interfering with the race" and must maintain a safe distance from the designated edge of the track surface at all times.
Start Line: Media are restricted from the area in front of the Start Gate once the Moto Board is displayed. Media are further prohibited from accessing areas directly to the inside or outside of the Start first turn, and once authorized to cross the track in the first turn immediately after the Start, must first ensure that all competitors have successfully left the Start and completed the first turn before crossing the track.
Track Access Map:  Media is prohibited from crossing the race course during active competition (including practice) other than at designated media crossing areas. In the unlikely event it is imperative to cross an active or "hot" race track, media are expected to do so only in areas that provide adequate opportunity to safely cross the circuit without impeding the on-track activity and only when safe to do so. Media will be provided with a Media Track Access Map indicating the locations of the designated approved media track crossing areas.
Interference: Media may not stand in front of or otherwise block any TV camera or sponsor signage. Media are expected at all times to conduct themselves in a safe and professional manner and may not impede in any way the activities of race officials, track workers or TV camera operators.
Outside Assistance: Media are prohibited from signaling, cheering on, or assisting anyone from the infield.
ONSITE INFO9. Atlanta Georgia Relays and its affiliates are in no way responsible or will be held liable for personal injury, loss or adversity as a result of any incident or Act of God on the day of the event. I HEREBY RELEASE, DISCHARGE, AND COVENANT NOT TO SUE the Atlanta Georgia Relays. (AAU), USATF, including its parent company, related affiliated and subsidiary companies of each, as well as the officers, directors, agents, employees and assigns of each, registers, owners, and the AAU's Associations, clubs, coaches, event coordinator, communication manager, officials, administrator, members, volunteers, participants, sponsors, advertisers, and if applicable owners and lessors of premises on which the Activity takes place, and any other party indemnified and held harmless Atlanta Georgia Relays will be removed FROM ALL LIABILITY, CLAIMS, DEMANDS, LOSSES, OR DAMAGES ON MY ACCOUNT CAUSED OR ALLEGED TO BE CAUSED IN WHOLE OR IN PARTY BY THE NEGLIGENCE OF THE "RELEASES" OR OTHERWISE, INCLUDING NEGLIGENT RESCUE OPERATIONS, NEGLIGENT SECURITY, TRAVEL, AND RECREATIONAL OPERATIONS AND ACTIVITIES; AND I FURTHER AGREE that if, despite this RELEASE AND WAIVER OF LIABILITY, ASSUMPTION OF RISK, AND INDEMNITY AGREEMENT I, or anyone on my behalf, makes a claim against any of the Release's, I WILL INDEMNIFY, SAVE, AND HOLD HARMLESS BEACH OF THE RELEASES from any litigation expenses, attorney fees, loss, liability, damage, or cost which may incur as the result of such claim.
Submit your info for a Press /Media Pass.